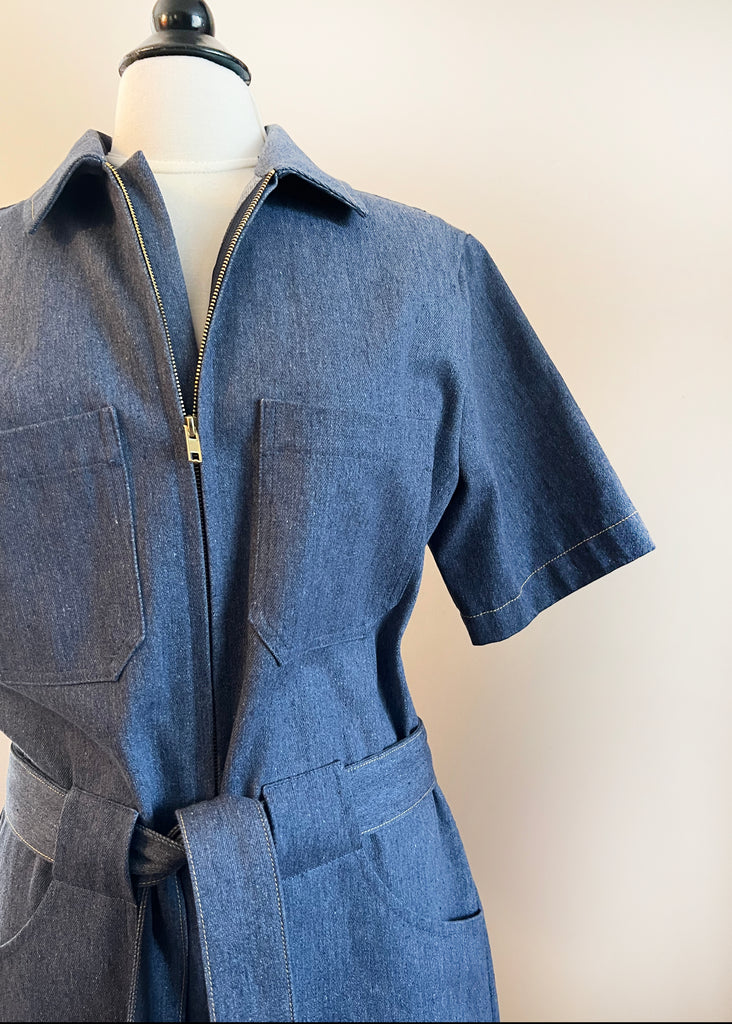 Frankie Boiler Suit - Upcycled Denim
Introducing our stylish and sustainable Zip Up Frankie Boiler Suit, a versatile piece that's perfect for any occasion! Crafted from high-quality, upcycled denim, this suit is not only fashionable but also eco-friendly, so you can feel good about your purchase.
The standout feature of this boiler suit is the beautiful brass zip up the front, which adds a touch of elegance to this utilitarian piece. The zip is sturdy and easy to use, ensuring a comfortable and secure fit.
The suit also boasts six pockets, making it highly functional and convenient. You can keep your hands warm and your trinkets safe, and even store your "how to vote" cards for easy access.
The function tie belt allows for multi-sizing, so you can adjust the fit to your liking and feel comfortable all day long. The 3/4 sleeves and semi-cropped leg add a touch of playfulness to this workwear-inspired design, making it perfect for any casual occasion.
Our Zip Up Frankie Boiler Suit is a must-have addition to your wardrobe, combining style and sustainability in one stunning piece. Enjoy a comfortable and chic outfit that's perfect for any season!
This fabulous boiler suit is constructed from a denim manufactured by The New Denim Project. They produce a range of fabrics produced within a completely circular model, created by a third-generation family-owned textile mill in Guatemala. 
The New Denim Project created this fabric by collecting and sorting post-industrial cotton waste from local garment factories and grounding these scraps back into fibre. These fibres are then spun into new yarns again, to weave and upcycle into our collection of upcycled cotton fabrics. This upcycling process minimises water and energy consumption and uses no dyes, chemicals or synthetic fibres. The lack of dyeing gives these fabrics a truly special finish which we love.
You'll see a little speckle of history visible in the texture and colours of this fabric! This sanforized, easy-care, non-stretch, machine washable fabric is a dream choice for any denim lover, ideal for everyday wear.
 Ecolicious!