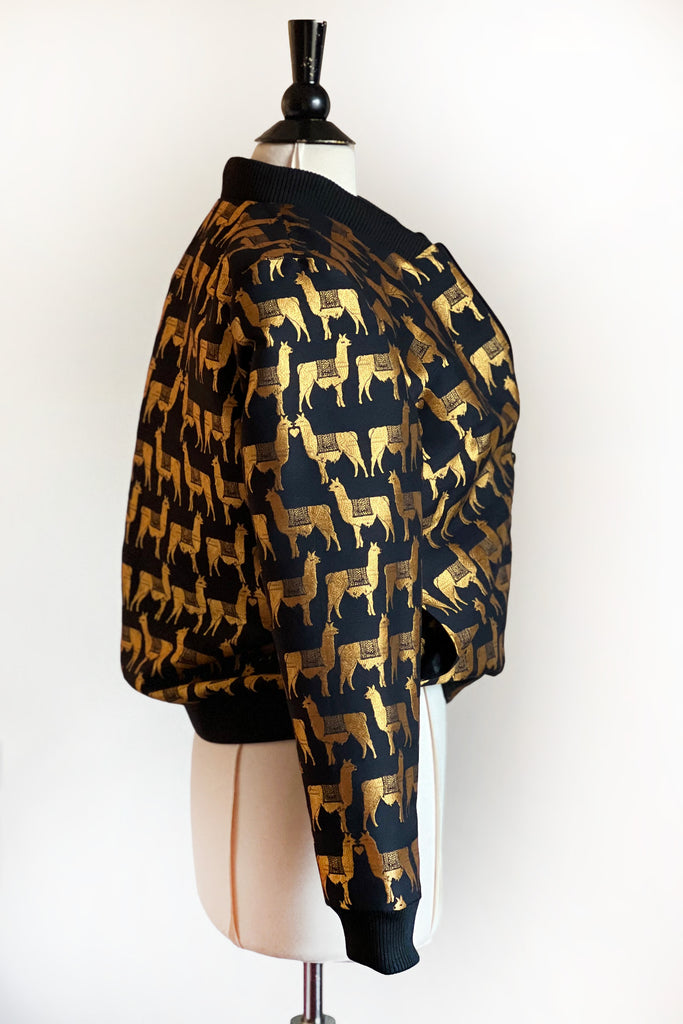 Strangelove Bomber Jacket - Golden Llama
"Holy Golden Llama, Batman!"
This isn't just a jacket - it's a love letter to music, fun, and the spirit of the festival. This unique piece is made from fabric so delightful, it's almost too much to bear. Embossed with darling golden llamas, it's bound to melt your heart.
Featuring ribbing on the waist, cuffs, and collar, and a zip that fastens up the front. The Golden Llama jacket is fully lined in a delightful self-striped fabric and comes with pockets for your hands, trinkets, and 'how to vote' cards.
But Pony Black is about more than just style - we're about making a difference too. This jacket is the result of responsible manufacturing processes and ethical sourcing of materials, so you can strut your stuff knowing you're doing your bit for all that matters in the world.
Upgrade your life with a piece that's as big on style as it is on substance. Click 'Add to Cart' and make the Golden Llama Strangelove Bomber Jacket your new favorite!
Size Medium shown (size 14AU)

Sleeve length: 62cm
Back length from base of neck: 58 cm
Collar height: 4 cm
Bust Circumference: 108cm
Band Circumference: 100cm

Gold Fabric: 50 Cotton 50 Polyester
Lining: 100 Acetate
Banding: 95 Cotton 5 Elastane